Why choose Training Unlimited Tours?
Ask our clients!
You have many choices of a company for your Holy Land Tour. Hopefully you will choose us. Our clients were recently in your shoes. The testimonials below answer just about every question you have and many you may not have thought of. Notice that you can contact many of our past clients, who are real people, directly by email and/or phone - they welcome your inquiry (for which I am grateful).
---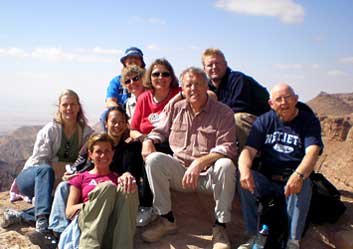 ---
I am a Christian with a great love for Biblical Lands: Israel, Jordan, Egypt, Turkey and Greece. I introduced my first clients to the Middle East in 1985, and have sent hundreds since then. People ask "what is the Training Unlimited in your company name about? Why doesn't your company name include pilgrimage, adventure, travel or vacation?" Our company goal is to "unlimit" your Christian "training" in amazing ways...to have your mind unpacking this experience for years to come as you read your Bible, teach and process the news from the Middle East...we are intentionally NOT offering a Christian vacation. For example, when you return home you will understand why the Lord Jesus Christ told the parable about the Good Samaritan on the Jericho Road rather than the road past Caesaria; what is meant by "living water" as opposed to dead water; how David could write: "As the mountains surround Jerusalem, so the LORD surrounds his people," which seems odd since we've been taught that Jerusalem is on a mountaintop. Please call or email me directly, I welcome your questions. - Tim Cowles, President, Training Unlimited Tours LLC, email Tim
---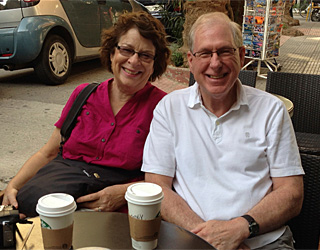 "Dear Tim and Jan, we really enjoyed the trip and the opportunity to meet so many quality people. You two are fortunate to have so many rewarding relationships.Thanks again for the planning and work that went into a great trip! This is our third tour with your company." - Dr. Frank and Sharon Hamilton, Tulsa, OK, email Hamiltons

---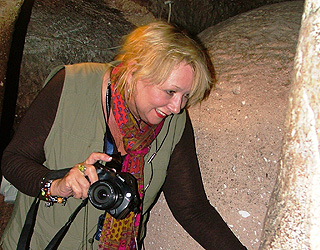 "The President's Tour of Turkey and Greece was everything we hoped for and more, thanks to Tim and Jan. All hotels were very nice and comfortable, exactly as presented, the food was very good everywhere, the buses were comfortable, the drivers friendly, and their skills were greatly appreciated! The cruise ship was better than we expected. Tim took care of every detail making the whole experience hassle free and enjoyable! We felt completely safe at all times! The Itinerary was incredible! It really is mind boggling to think about all that we saw, learned, experienced, in less than 3 weeks! We are still processing it all, and will have a lifetime of memories to enjoy! Even though we were a large group, Tim and Jan went out of their way to make everyone feel included, connected, and special, resulting in a happy group all getting along like old friends. I believe God poured out his blessing on this trip and our group. One of the things special to me were the daily devotionals, and the readings/speaking at each site, it really did make the Bible come to life! We learned so much! The cruise of the Greek Isles was a nice break, very relaxing , a chance to do some things on your own if you wanted to. Our Tour guides were fabulous! Arzu Kuru in Turkey, was wonderful, so knowledgeable, helpful, organized, always in control, and her personality and beautiful smile just stole our hearts! Maria Spanoudaki in Greece was amazing! She was a walking encyclopedia! A very Classy Lady! We felt Privileged to have both of them as our guide! I had done extensive research on different Bible Land tour companies and always came back to Tim's President's tour. We made the mistake of going with another company once because of a conflicting date, but never again will I go with anyone else! If you are reading this, you are considering touring The Bible Lands...don't wait...just do it…and go with Tim and Jan...you will never regret it and you will be truly Blessed!" - Kristy and Bobby Graham, Jackson, MS, email Kristy

---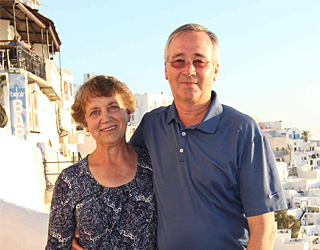 "Tim great job, it was inspirational to walk where Paul walked and see the sacrifices that the early Christians went through. It puts more meaning in reading the Bible when you can stand where the early Christians stood. This is our third tour with your company." - Leroy and Barbara Custer, Boise, ID email Leroy

---
"Tim, thank you for putting together such a wonderful trip. It was our first time to travel with a group and we are so glad we did! we are so amazed when we think back to all of the places we were able to visit. It was great to get to know you and Jan. You both made us feel like friends and we appreciated that. Our hope is that our paths will cross again...maybe on a future trip. Thanks for this experience we will never forget!" - Janice and Cal Grimmer, Portland, OR email Janice

---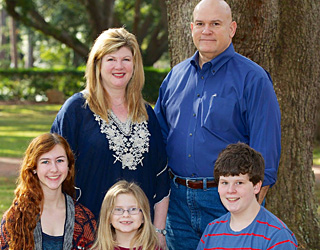 "Tim, our two tours with your company were awesome! In 2009, I took my wife and two older kids to Egypt and Israel. The trip could not have been more wonderfully planned. We were met at each destination by excellent guides and given valuable insights into not only our Christian faith, but into the cultures of the people, both ancient and contemporary. On our return, The Bible seems more alive than ever as we read scripture and imagine the land where the most crucial moments in human history occurred. I have continued to recommend your services whenever The Holy Land becomes the topic of conversation. On my solo trip last year, I relished the smaller size tour with excursions to less traveled but no less important sites. One exceptional highlight was our devotional in the Eastern Orthodox Garden of Gethsemane! So peaceful and beautiful!! On both trips I took over 3000 photographs (my hobby) and I could leave tomorrow to take 3000 more!! Thanks for ushering in a new understanding of the birthplace of my faith and for facilitating a deeper appreciation for the eternal impact of humble beginnings!! Next year, Israel!! Be blessed."- Brooks Harris, Alexandria, LA email Brooks

---
"Dear Tim and Jan, my copious notes from my award winning journal makes it difficult to reduce this testimonial to a few sentences! All kidding aside I whole heartily recommend this tour to any person or group who has not been to the Holy Lands before. Everything on the tour was excellent! This was my third tour with your company." - Bill and Mary Strong, Oil City, PA, email Bill
---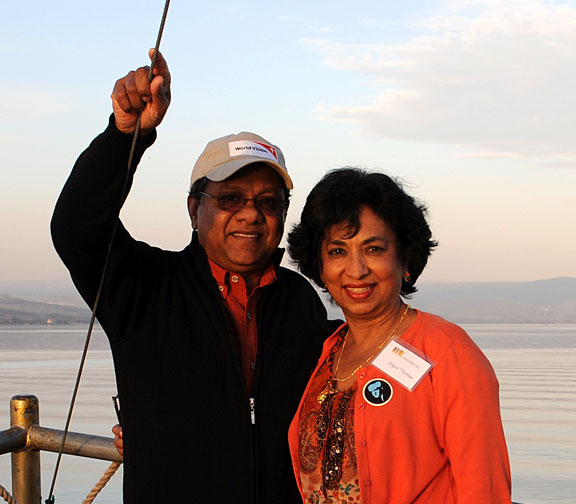 "Dear Tim, there is not a day that I do not think of our recent trip to the land where Jesus walked and where all that is recorded in the Bible comes alive and is daily being proven true. Without hesitation, I talk about my trip whenever I can, especially in the office, telling them what it is that blessed me, urging them to also go and be blessed likewise. Most people expressed concern about their safety. I tell them we felt perfectly safe and well taken care of." - Drs. Joyce and Bobby Thomas, Athens, GA email Joyce

---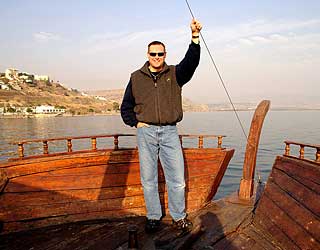 "Dear Tim, I wanted to visit Israel my entire life. Like so many, every year there was some excuse as to why 'this wasn't the year.'  Finally, I quit procrastinating, and because I felt God was calling me to do this now, I signed onto your tour. I chose you because you took the personal time to answer many questions I had about the tour. I never felt like I was just another 'reservation.' What an experience! The trip was everything I had hoped for and more. I was impressed with the hotels and itinerary, and nothing was different than advertised. Most importantly though, I felt spiritually connected with Christ the entire trip. On one day alone, our group of seven visited the Mount of Beatitudes, the Church of the Multiplication of Loaves and Fishes, Capernaum, and took a boat ride on the Sea of Galilee. It was almost too much to take in spiritually. To think I was walking in the steps of Jesus all day. Wow! I also enjoyed Jerusalem, and particularly the Mt. of Olives. To meet and dialog with so many different people was a special experience. To pray at so many special places that I had only read about before my trip was a blessing. I now know what my pastor meant when he said before I left that visiting the Holy Land is like experiencing a fifth gospel. He was so right. I will never again read or hear the story of Jesus walking on water or calming the storm without having a vivid picture of what those events must have looked like and felt like. I was on the same lake! Israel is a beautiful country, full of rich history and significance. I can't believe I waited so long. I won't wait as long again to go back, and when I do, Tim, you will again get my business. I would encourage anyone who is thinking of going, (and might be procrastinating like I had been), to just do it. You will be richly rewarded and blessed. I've taken four tours with your company." - Bill McKenna, email Bill

---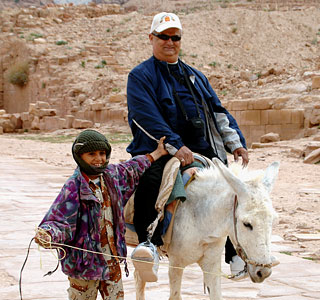 "It was the absolute wrong time of year to be taking off to the Middle East for almost three weeks. I mean, no owner/operator of a limousine service would just take off on vacation in the middle of the South Florida tourist season, would he? Or would he? The first thing I noticed was the that baptisms were set to take place in the River Jordan on my 62nd birthday. Now that surely was a coincidence wasn't it. Or was it? I really wanted to go to Egypt as I hated to get this close and not see all the wonders of the ancient world. Well, it turned out to be a life changing experience. I am not the same person I was before taking this tour. I have truly walked where Jesus walked. The tour guides were phenomenal in their knowledge. Tim and his wife Jan could not have been more accommodating. The pace of the tour was flexible enough so that even an out-of-shape 62 year old could keep up. The camaraderie of the group is something that will last a lifetime. Just do it." - David C. Fitz, 4176 Second Court, Lake Worth, Fl 33462-2126, 561-436-9436, email David

---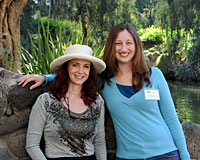 "I can't begin to tell you how much Audrey and I enjoyed the President's Tour with you. Every day I think of the trip and the friends I made. Going on the President's Tour with you and Jan was extra special. Your expertise was amazing and you and Jan are fun people who it is a joy to know. Besides wonderful people and terrific guides, we were also impressed with how smoothly the trip went. The planning was faultless on this tour and the previous one my parents took with your company. Thank you again." - Janell Martin, Boise, ID, email Janell

---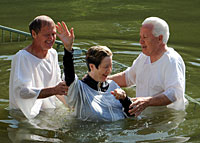 "Tim and Jan, thanks for being such wonderful hosts. I really enjoyed the President's Tour and look forward to possibly going to Jordan and Egypt in two years. Blessings!" - Mary Logan, Springfield, MO

---
"Hi Tim, thank you for a wonderful time we had in Israel. I miss everyone already and cannot believe we did and saw so much, not to mention the lovely friends we have made. We have the most precious memories that we will cherish forever, thank you. So my dear friend I shall start saving for our next trip." - Leanne and Martin Dungey, England

---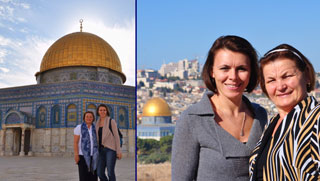 "Dear Tim, Thank you! Thank you! Thank you! We are safely home and still in disbelief and amazement as to what we've seen and where we've been! Our trip could not have been any better! Everything from the itinerary to the sites we've seen, the tour guides and accommodations to the attention and assistance Stacy provided far exceeded our expectations! This truly has been an experience of our lifetime! We have been truly blessed. Sincerely" - Nadia Kriger

---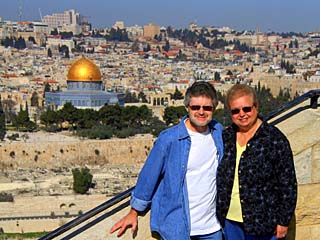 "Our participation in a Training Unlimited Tour was so much more than a vacation. Rosy and I were so impressed with the knowledge and insights of our competent tour guides. We were exposed to history, culture, archeology, geography, and cuisine in a very hands-on travel experience. As photographers, my wife and I were thrilled with the visual beauty and diversity of all three countries we visited. We continue to spend time processing all that the full, rich itinerary exposed us to, and our study of the scriptures is so enriched because of "having been there." The beauty of this trip for me is that it brought together my personal, spiritual, and professional interests. This trip was the climax of my sabbatical semester which was focused on global learning, but I was able to interconnect the professional aspects of this experience with my personal and spiritual interests. It was also a joy to share this study/travel experience with a diverse group of interesting and fun people. Thank you, Tim and Jan, for this well planned tour and for making us personally feel like we were old-time friends." - Jerry (and Rosy) Niebauer, Whispering Pines, NC email Jerry/Rosy

---
"Hello Tim, we want to thank you for an excellent tour. The weather was great. A number of people have asked us who organized the tour so we have been able to give out your name and of course, highly recommended you. We really liked going with a small group. It was a nice mix of people and we all had conversations together. Our Israeli guide was also our driver and we had a brand new van. It was very comfortable. We were glad we weren't in one of the big busses. Our Israeli guide/driver was excellent. It was obvious he loved his country and knew his history well. He would also relate what happened there according to the Bible and then would even read the passage from the Bible. I had been a little concerned about not having a pastor with us. It was not a problem at all. We didn't go there to hear a sermon, we went there to see where Jesus lived and walk where he walked, etc. We were very pleased with what we got. I wanted to get baptized in the Jordan River and not having a pastor, I asked my husband. Several others decided they wanted to get baptized and asked Don if he would baptize them too so he did.  We dubbed him 'Don, the Baptist.' We never felt unsafe. We were also pleased with the accommodations everywhere. The places were all quite different and that made it interesting too. The Marriott in Cairo, the last place we stayed, was fantastic. It's the nicest place we have ever stayed. The meals were all wonderful. There was always a great variety of food. Buffet style works well. Steve used his daughter's small camera when we were at the Dead Sea and ended up with some pretty good pictures of us all covered with mud! That was fun floating in that salt water.  We're going to use that picture on our Christmas card this year! Petra was amazing.  Our guide there asked us if we wanted to leave early and we said "definitely." Another highlight was the Mt. Sinai adventure. We were surprised at how comfortable riding a camel was. The walk down was more difficult than was expected. I'm in good shape, especially for 65, and I didn't have any problem but it was a long hard walk and I was sure glad to get to the bottom. Then there were the pyramids. What a great way to end our tour. As I said, we were very pleased with our tour, the itinerary, accommodations, food, guides, weather, everything. Thank you for making this such a wonderful trip. Going with good friends and being in a small group helped also. We are very happy that we chose to go with your tour company. I hope this is a good enough summary of our trip.  Dorothy was our "scribe."  She is an excellent note taker and is going to pass on her notes to us. Thanks again for arranging a great tour. It was well worth the money." - Dee (and Don) Walker, San Jose, CA.

---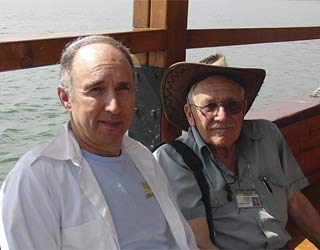 "Tim, as I mentioned during our telephone call after I returned from the Holy Lands Tour, I tremendously enjoyed that tour. As an airline pilot I'm able to do quite a bit of traveling, but overall I consider your Holy Land Tour to have been the trip of a lifetime. Everything about the tour, its organization, hotels, meals, and knowledgeable guide met or exceeded my expectations. Feel free to include the above recommendation as you may wish. The photo is of me on the sea of Galilee near the Mt of Beatitudes. I am on the left in the photo sitting next to our guide extraordinaire, Jacob, who wears his hat when not using it to signal us to gather around for one of his marvelous historical Biblical expositions. I'm thinking I need to take another trip with a tape recorder to record Jacob's wonderful expositions enroute and at each of the sites we visited." - Jim Dasko, Elk Rapids, MI.

---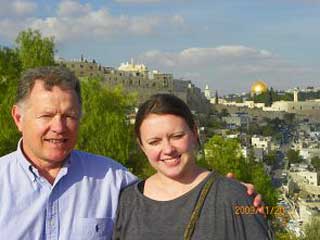 "Hi Tim! My daughter, Jennifer, and I love to travel and investigate the world but we have never had a more meaningful trip than our recent visit to the Holy Lands.  We really appreciate your facilitation of the trip and removal of many of the hassles that are normally a part of foreign travel.  Our guide, Yael, and our accommodations were top notch.  Thanks for the great memories." - Terry and Jennifer Hanauer, Shandon, CA.

---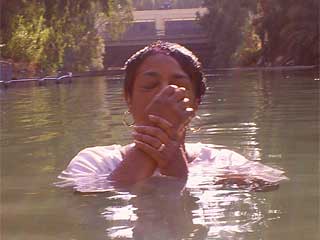 "Hi Tim! Thanks for such a wonderful, wonderful trip! Geneva and I had an awesome time! Everything exceeded our expectations. The tour was organized, on time and spectatular. Our guide, Zeev, was the best. The sites we visited and the commentaries added new dimensions to my knowledge of the Bible, the times, the people and the land. You're doing a great work. I know that many more will be blessed as you continue this valuable ministry. Please give Jan our regards and thanks as well. Best regards." - Barbara Richards in Florida.

---
"Tim, I just wanted to let you know how much I appreciate all your help with my recent trip to the Holy Land. I've been on many tours around the world and had many good experiences; but, your tour was one of my alltime best. My Dad was a minister - so, I had always heard and read about the places I got to visit. One of my greatest dreams in life has now been a reality and one I'll always remember with my numerous photos. Thanks for smoothing out the arrangements for transportation once I arrived in Tel Aviv. I didn't have to worry about a thing. I enjoyed meeting and touring with my 4 new friends from Canada while in Israel. They helped make the trip a lot more fun. All of the guides and drivers were very informative and thorough. At times they would do extra things to make my tour more interesting. I saw much more than I thought l'd see. I will recommend your company to anyone that wants to visit the Holy Land. - Keith Ashley in Dyersburg, TN.

---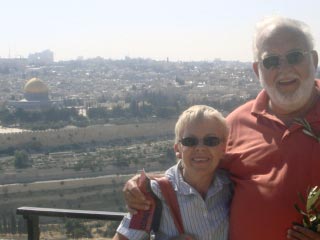 "Hi Tim, my wife and I just returned from visiting Israel and Egypt and wanted to inform you that we had a totally awesome trip. The hotels you selected in Israel were excellent, the food was great and the guides were very knowledgeable and helpful. We stayed in the Marriot in Cairo and it was exceptional. We had a great view of the Nile, food was wonderful and the guide service took care of every little detail, making the trip worry free. They even checked us into the hotel, checked us out and even escorted us to the airport, arranged for our bags to be checked in and got our tickets. I have never been treated any better anywhere. Although you were somewhat apologetic about the accommodations at Mt. Sinai, calling them 2 or 3 star, we thought they were very comfortable, quaint, and very appropriate for that area. I had read on your web site that a visit to the Holy land was a life changing experience and you were so right. To walk where Jesus walked, to visit the places where he lived, preached and even died was an experience we will never forget. We were both moved by not only the historical and religious significance of the entire country, but by the attitude of the Jewish people as a whole. Thanks Tim for putting together a great package. May our Father continue to bless you and your family." - Joe Moody in Pensacola, FL.

---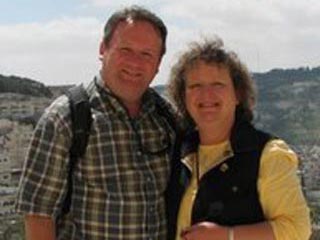 "Dear Tim, our tour to Israel was perfect. There is not a thing that I would change except that I wish that I were still there. Jim and I are feeling a bit homesick. Our guide was wonderful! It seemed as though this tour was especially designed for us. When Jim and I got to our room in Tiberius and stood out on the balcony overlooking the Sea of Galilee we could not hold back our tears. We felt such a presence of the Lord there and we were so grateful that the Lord had given us the opportunity to visit Israel. We felt the same at the Garden tomb as we took communion with members of our group that by now had become so dear to us. For me personally it was the fulfillment of a long awaited dream to pray at the Western Wall. Just being there brought about a deep awareness of being a part of the family of God. The accommodations were very nice we were very comfortable and well cared for at each location. Thank you Tim and thank you to your staff for staying in touch with us and with our daughter. We really appreciate the great communication. We recommend Training Unlimited Tours to anyone wanting to go to Israel. Although it was difficult to leave we felt that we had seen as much and done as much and learned as much as we possibly could in the time that we were there. We were totally satisfied. I hope that we get the opportunity to do it again. Maybe the next time we will visit Jordan or Egypt." - Jim and Barbara Furshong, Helena, MT.

---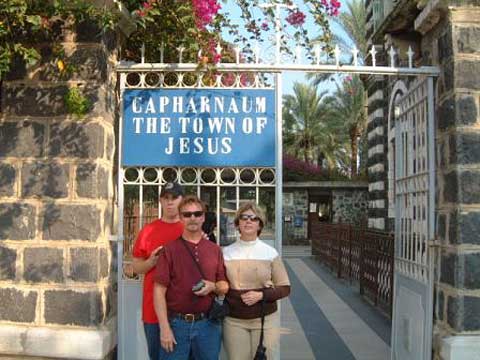 "Dear Tim, Our trip to Israel, the Holy Land, was everything we hoped, dreamed, or imagined it would be, and so, so, very much more.  The miracle of our journey is that I have returned with a profound sense of peace and strength. Thank you for your wonderful support and kindness throughout our trip." - Dawn Maddox, Yankee Hill, CA.

---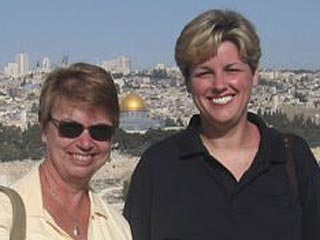 "Dear Tim, thank you for the wonderful trip that you arranged for my daughter and I. Everything that was supposed to happen did happen. We were met at the airport, transferred to the hotel, and picked up right on schedule. Our traveling companions were excellent. The hotels were great. Our guide was unbelievable, full of knowledge and alot of fun besides. If we ever decide to go to Israel again, you can be sure that we will arrange our trip through you." - JoAnn and Laurie Parkinson, Ft. Lauderdale, FL.

---
"Tim, wonderful trip. Well thought out schedule, it covered everything we expected, and more. Our guide was the best I've ever had. Hotel rooms were great. I know my son gained much insight for his teaching, his sermons and his spritual growth. The trip could not have been better! Thank you so much." - Dale Townsend, Banning, CA.
---
"Tim, thank you so much for one fantastic week in Israel. We had beautiful weather and a tremendous guide. There were no lows connected to the tour. The highs were: Masada; St. Anne's Church with beautiful acoustics demonstrated by a South Korean congregation spontaneously singing "Amazing Grace" in Korean - very moving; Bet Shean; staring at the Sea of Galilee and imagining what occurred; Garden of Gethsemane; Western Wall; and then everything else! Thank you so much for a life-time memory!" - Gary and Denny Berry, Falls Church, VA.
---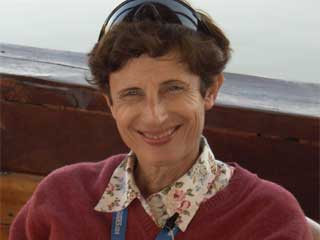 "Tim, I have guided Christians for over 30 years here in Israel. You are the first and only tour operator who has ever called me during a tour to see how everything was going for your clients. You are remarkable." - Yael Negev Merlz.

---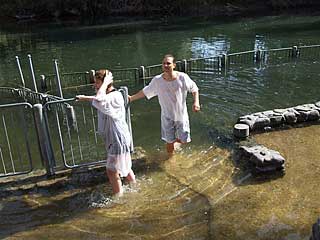 "Dear Tim, I am describing the trip as 'fabulous' to all who inquire. No adjectives really come close, as I learned and experienced far more than I had imagined possible. Our guide was wonderful; calm, responsible and cautious. The wonderful people with whom I shared the tour were one of the trip's blessings. I am happy to be a reference for anyone who is interested in taking the tour." - Margo Kivisto, Brighton, MI.

---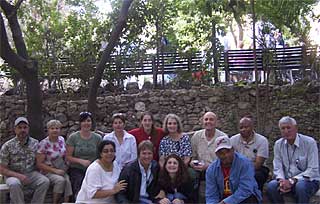 "Brother Tim, I just want to tell you what a wonderful HOLYLAND TOUR EXPERIENCE we had. Sorry it took so long but I trying to win SOULS FOR JESUS AND TIME IS A PREMUIM (SMILE). I can remember you asking me would I help baptize in the Jordan River and of course I said yes, but I assumed there would be other pastors on this tour. Well I was the only pastor and I had the pleasure all by myself (I'M SMILING!) to perform; baptisms, communion, sermons and a very special Sunday night service in Jerusalem. You also know there were 12 Disciples in the group, as we say here in the South 'Aint GOD GOOD!' I now tell each Minister of the Gospel and Christian followers they must visit the HOLY LAND to really appreciate GOD'S LOVE. I can't express to you in words how JESUS spoke to my heart while in Israel. How many Christians can say they really walked in JESUS footsteps, took a boat ride on the Sea of Galilee, stood where JESUS CHRIST was borne, and stood where JESUS sacrificed his LIFE for all mankind. My fellow Disciples and I were truly blessed to share this SPIRITUAL PILGRIMAGE together and have become life time Brothers and Sisters in JESUS CHRIST. I'm looking forward to going back to Israel and my Church is considering sponsoring a tour this year or next year. GOD blessed us to have David guide us through Israel. Again Brother Tim, I had a great time and thanks you and Training Unlimited Tours for handling all of our travel needs." - Pastor Rondey A. Thornton, Tuskegee, AL.

---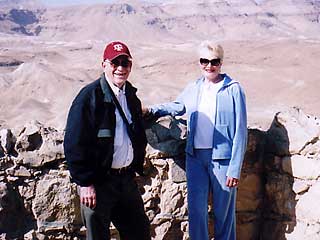 "Tim, the tour we just returned from was fabulous! Our guide was so knowledgable about everything. He became our close friend, caretaker, teacher plus guide! We had supper in the Upper Room. I have now been twice and an ready to go again. I felt so close to the Lord there, especially on the Sea of Galilee, the Mt. of Olives and the Garden Tomb. My heart is still full of all the wonderful experience of walking where Jesus walked.
It was so nice to walk into Ben Gurion Airport after such an exhausting journey and see a friendly face on the first row with "Alexander" printed on a placard in large letters. She just breezed us through the ordeal of baggage retrieval and customs. Then this nice shuttle person took us right to our hotel. All is all it was the safest, most wonderful educational and worshipful tour we could have imagined. We are talking it up with everyone we see. People at our church are getting more interested. Tim, God bless you and thank you so much for all your help." - Sonya Alexander, Longview, TX.

---
"Dear Tim, my wife and I cannot say enough good things about the trip. We loved our guide. She was so knowledgeable and pleasant. She kept us moving the whole time which was great because there is so much to see. The number of people for the tour (15) was perfect. We did not know anyone before we went but now I think they will be life long friends. Safety is the first question people are asking me. Yes I felt safe. It is amazing to me how many people are afraid to go to Israel. I realized why as I saw the news while we were there. There were two "incidences". The first was Arab youth throwing rocks and their shoes at police at the Dome of the Rock. Yes shoes! The second was Arab youth throwing rocks at a tour bus. Both of those things made it on world wide news networks! I live in southern California. Can you imagine how many gang shootings, drug busts and violent crimes went on here during that time! In most ways Israel is much safer than many places in the U.S. I would highly recommend someone taking the tour! Thank you for the experience!" - Dr. Greg Grochowski, Redlands, CA.

---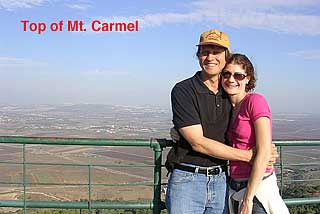 "Dear Tim, we decided to spend our honeymoon in the Holy Land. Although most thought it a bit unusual to spend this time of our lives on a spiritual pilgrimage, it seemed natural to us since our relationship began at a time when the Lord was reaching out to both of us. He has blessed us deeply through our relationship and marriage. We returned recently and are thrilled that we made the decision to spend our honeymoon there! What a blessing!
We can't begin to describe how wonderful the week was. Our accommodations in Tel Aviv, Tiberius and Jerusalem were excellent. The meals were plentiful and varied - something for everyone. Our tour guide was phenomenal! His knowledge of history and scripture enhanced our understanding and enjoyment of every site we visited. He was very witty and made the entire group feel at home. He was patient with all of our questions and made sure that we left each site with a new appreciation of history and scripture.
Our tour group has become family to us. Several in our group were baptized in the Jordan. We shared the traditional Jewish prayer and blessing on the Mount of Olives when we arrived in Jerusalem. We communed together at the Garden Tomb. We worshipped together on Sunday. Sharing in God's blessing together has created a lifetime bond.
We cannot adequately describe the beauty and history of the sites we visited. Caesarea, Mt. Carmel, Galilee, the Jordan, the Dead Sea, Jerusalem, Gethsemane, 3000+ year old buildings, 3000+ year old olive trees, ... they can't even all be listed here. It is the trip of a lifetime and Training Unlimited Tours made sure that we both enjoyed ourselves and were truly blessed in the process!" - David and Nina Hancharik, Norcross, GA

---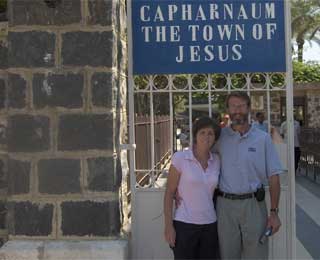 "Dear Tim, the Israel trip was absolutely fantastic! We encountered no problems at all, even when we were at the Lebanon and Syrian borders. We also went into Palestinian-ruled Bethelehem with no issues at all. The timing for our trip was excellent and all the Biblical sites were open and ready for us. Nothing is crowded right now, and that makes for more time to contemplate and pray at the places that simply overwhelm your heart and mind. Thanks for arranging everything...the whole trip was flawless! We will be going back to Israel soon! Shalom." - Lance and Phyllie Snipes, Tyrone, GA

---
"Dear Tim, we arrived safely back from our tour to Israel (I felt safer in Israel than I do in Amsterdam). Everything was very well organized and all the transfers etc, went smoothly. Our guide was the best: a walking, talking historical encyclopedia with a sharp mind and a great sense of humour! It was actually wonderful to do the tour with a small group; everyone was eager to learn as much as possible within the short time available. It was fascinating to visit all the historical sites and it is amazing to experience how the Scripture comes alive when you've actually been to the places that are mentioned. Especially the visits to the Jordan, Gethsemane, the Western Wall and the Garden Tomb are unforgettable, not to mention Yad Vashem. I think it will take us some time to digest everything we have heard, seen and experienced. In fact, Israel has such a rich history and has so many interesting places, that one visit is definitely not enough...thank you for everything!" - Maya Rossum, Amsterdam, Holland.

---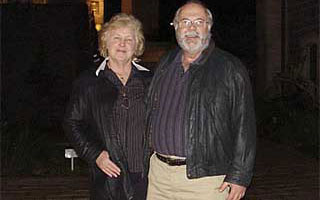 "Dear Tim, I can't remember when I have been as pleased with someone providing a service as I have been with you. Both my wife and I count the experience you provided and your care among the highlights in our lives. Please accept my warmest thanks and a well done." - Gary and Barbara Mueller, Long Beach, CA.

---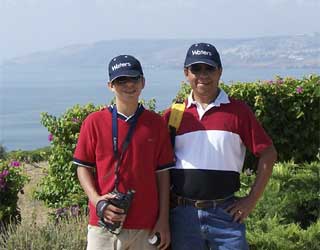 "Dear Tim, the tour was fantastic! The guide was very knowledgeable about the history of Israel and the Biblical account of each of the sites. There was so much to learn in such a short time, he did an excellent job keeping us on track. He spoke from his heart and from experience. I could see that he really cared for the group and wanted us to enjoy the trip and to be safe. The food and the hotels were great. The people at the hotels were very courteous and helpful. Experiencing the actual sites where Jesus walked and ministered to the people was just awesome. An experience to remember for a lifetime!" - Jose and David Bonilla, Gilbertsville, KY.

---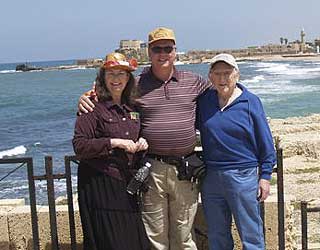 "Dear Tim, Tom and I were deeply moved in many of the places we visited and we highly recommend your tour to all of our friends. God bless you!" - Tom and Terri Rhoden, Orlando, FL.

---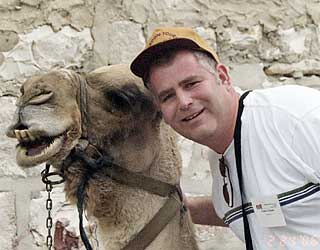 "Dear Tim, thank you for putting a great trip together. The group I joined was wonderful and I have memories and friendships that will last a lifetime. I have traveled many places in the world and know the problems than can arise. All aspects of this tour were in order and all the people who represented your company were fun, interesting and always concerned about us. Your assistant Susie kept us laughing the whole tour with her many funny stories. She is a great person to have working with you. Let me also comment on your guide Yael...she was so patient and informative! God bless you Tim and thanks for everything." - Frank Cappel, Clarksville, OH.

---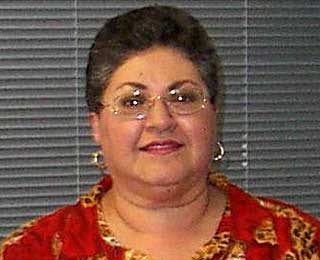 "Dear Tim, The whole trip was wonderful and I'm so glad I went. There were tons of great places seen because the tour you provided was extensive. I stayed on for another week but in reality, your tour really covered most of what anyone would want to see. Seeing Israel changed my concept about it. Frankly, I couldn't understand why God would chose that place as any thing special because I'd always heard it was bleak. No way! God truly knows what he's doing. Israel offers visitors an anomaly between yesterday and today. How else can one describe The Old City in Jerusalem and the city around it?
My favorite sites were the Garden Tomb and the Western Wall. I would strongly recommend that you include both the Garden Tomb and the "traditional" site of the tomb so that all visitors can have the opportunity to contemplate the difference and compare them to scripture. Since I'm not Jewish, I didn't expect that the Wailing Wall would have much meaning to me, and boy was I wrong! What an incredible place and feeling-shouldn't be missed by anybody. Take care and thanks again." - Shirley Ortega Beamer, Denver, CO.

---
"Dear Mr. Cowles, We just returned from our tour and I wanted to drop you a line and thank you for all of your help! The tour guide, Uri, and his driver, Abraham did an extraordinary job! Both were well versed with the biblical sites and we had a good time. I hope you'll forward that on to the Ministery of Tourism. The Dan Panorama at Tel Aviv is truly a very good hotel. I liked the beach access and the buffets were first rate. Likewise, the Sheraton Tiberius was outstanding and had a great meal plan and a good location, two blocks from the city center and right on the waterfront, just across from where the Sea of Galilee boats dock. We did get tickets for midnight at St. Catherine's in Bethelehem, and I'm grateful for that. One of the other tour companies included it in their tour (they paid a lot more for their tour than we did).
There is much more to be said. Suffice it to say that we did price comparison with our fellow travelers and my mother and I both felt we got the best deal of the ones we heard about. I would definitely recommend you, in the future, and I'm already trying to get my senior partner and his wife to consider going. - Jim Wherry, Rock Island, IL.

---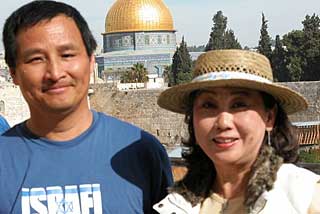 "Dear Tim, I would like to give a late but Big Thank You for arranging such a wonderful trip for me and Tony. It was such a heart touching and life changing experiences for us. I now read the Bible with that joyful sense of being with Him in the land that I call it the 4th dimensional view. I was able to show and tell my Sunday School kids about Bethlehem while studying the birth of Jesus our Savior during Christmas season. I saw their excitement and enthusiasm rise when they saw my photos of Bethlehem. While in the big group, the director mentioned the pigeons were used to deliver messages in Bible times to the kids, they turned their heads to me and smiled at me...Ms. Julia has just showed us the pigeons in Israel. It was such a joy to hear one parent told me her daughter talked about Ms. Julia's trip the whole week.
I would like to share the holy land thru my camera eyes. Please feel free to share with anyone who is interested in going to the holy land. Can you also say Hi and Thanks for me to our guide Yael? She is truly a mighty warrior. I remember her every time I read Judges 4-5. My web site address is http://kodakgallery.com/holyland password: JS (uppercase). There are 6 in Israel albums. If you click Julia's Gallery, the albums will show up. Hope you enjoy my amateur photos! Have a glorious day! Love in Christ." - Julia Shen, Phoenix, AZ.

---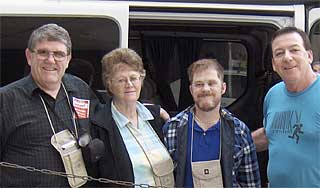 "Tim, Just wanted to let you know that we really did enjoy the trip. You put together a great tour for us. There is so much to see there. Yigal has so much knowledge about the area. We hope someday we will be able to contact you and go again. Thanks for everything and for calling us in Israel from the State to check on us. - Connie Frazier, Austin, TX.

---
"Dear Tim, Let me thank you for a wonderful tour you have given me and my family. From the moment we touched our foot in Israel your tour guided us through immigration, baggage, to the transfer van and to the hotel. We felt secure on your excellent guided tour. We have not only seen and touched the Holy Land but was well informed of the history of Israel as well. I have 2 intelligent sons who are well read. Every question (millions) they have for "Yigal" was answered superbly. My oldest son usually complains about the inadequacy of information of most of our tourist guides, but with Yigal, my children enjoyed every minute of the tour like they were having live history class (their favorite). My husband and I were even able to renew our wedding vows at Cana. It was a wholesome vacation. My only regret is that, it had to end.
Pictures and the videos we took are not enough to describe the joy in our hearts that we have actually seen, touched the places were Jesus Christ was conceived, born, raised, preached, performed miracles, sacrificed, died, resurrected and ascended. I had lots of personal wishes I made but one I never missed, that we'd be able to go back and see Jerusalem again and again. Thank you very much for an excellent tour. God bless." - Amy, Rudy, Ayodale and Ruem Tan, Philidelphia, PA.

---
"Tim, our trip to Israel and Jordan was awesome! Your personal attention added so much...our guide Gabriel was very interesting, funny and knowledgable. Also, he was flexible as to our desires and needs. Our group was great, very compatible. We made lots of new friends. Almost everywhere we went was a highlight of the trip...from the Mount of Beatitudes, Sea of Galilee, Jerusalem, Megiddo to Masada and the Dead Sea...all just wonderful lifetime memories! The time we spent at Golgatha and the Garden Tomb...such a spiritual finish to our trip - for our minds and spirits, we were satisfied!
Jordan was well worth seeing and our driver and guide were so nice! After seeing Mt. Nebo and Jerash my "Wow" memory card was just about filled! Jerash was every bit as magnificent and beautiful as Petra! The sunset in Petra was a sight to behold right there on the hotel terrace...very memorable evening...we sat there in the chill of the evening, never getting too cold and even forgetting to eat as our stimulating conversation of reviewing our journey, spiritual and otherwise was our sustenance."
So, thank you very much, Tim, for your excellent and personal service...you may quote me and use me as reference. I certainly hope to be blessed to again use your service in the future...may God continue to bless you and yours." - Kate Harrison, Macon, GA.
---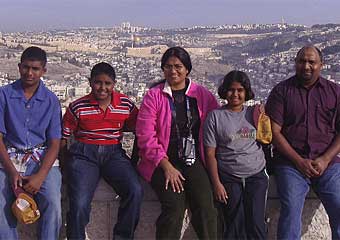 "Tim, we returned home safely. We had a wonderful 10 days in Israel. Our kids very much enjoyed the trip. We had wonderful group of people with us, Pastor David Bowen was a blessing throughout. Our guide Yael was very knowledgeable. We will remember this trip for rest of our life. I want to thank you for wonderful arrangements - use me as a reference." - David Thomsen and family, Irving, TX.

---
"Tim, I just wanted to drop you a short note to say thank you for the GREAT trip that you arranged for me and my brother. We had an unforgettable experience in the Holy Land and are looking forward to the next time we can return there. With all of the sites we were able to see, the hotels, meals, transfers and bus rides included in the price it is hard for me to believe that there is much profit in this for you and I have to believe your biggest profit comes from getting people to the Holy Land. For this I am thankful to you. God Bless you and yours! Thanks again Tim!" - Tim Martin, Stillwater, MN.

---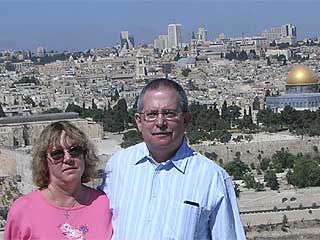 "Tim, here is a photo of us on the Mt. of Olives with Jerusalem in the background from last month's trip. We have over 300 photos, most of which turned out quite good. Thanks for arranging the most memorable trip we have ever taken. Best regards." - Vic and Denise Deutchman, Louisville, KY.

---
"Tim, we were all very impressed with our guide, Yigal Zahavi, he knows his business and the New Testament. You knew that he was an exceptional guide and I appreciate your recommendation. Some people might have concern about medical treatment in Israel. Medical services are unbelieveably good and they cost a small fraction of similar services in the USA. After my fall Paramedics treated me at the scene and transported me about 10 miles to a hospital. In the emergency room, I saw three different doctors, had an EKG, complete lab work, CAT scan and they gave me two stitches. My ER bill was $140.00 US - Unbelieveable! I am fine and I don't expect any problems with a full recovery." - Bob Elgin, Kansas City, MO.

---
"Tim, I wanted to take a minute to let you know how much we enjoyed our trip. It was more than we ever expected.  Our guide was fantastic and we can't wait to go again. Thank you for all you did to make this trip a reality. In Christ Love." - Anthony and Wenona Nelson, Columbia, SC.

---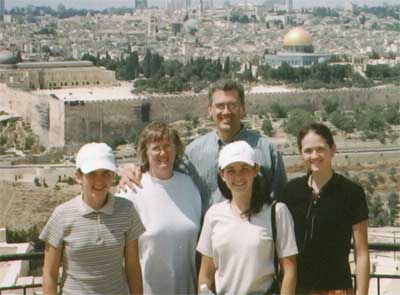 Mt. of Olives: "Tim...we were extremely pleased. We had a fantastic trip with so many memories. The kids thoroughly enjoyed it, in fact our oldest daughter says she wants to go back. I loved seeing the mountains of the Bible and the geography of the land. Our boat ride on the Sea of Galilee was very meaningful. One morning at breakfast our daughters were chattering about reading from their Bibles the night before and were amazed at how many times places or events were mentioned that we had already seen and heard about it. Yigal never tired of filling our minds with information, and he was like a grandfather to our girls. When we parted there were tears and hugs. The rewards for us will serve us for a lifetime. We could not have asked for a better trip and we recommend it to anyone. Thanks again and Shalom." - Dale Good, Stevens, PA.

---
"Tim, I wanted to take this time to thank you for a fantastic trip of a lifetime to the holy land. My wife Patsy was reluctant to go because of all the terror attacks in past years. She finally agreed. We never had any worry or fear after arriving to Israel. The hotels you booked were excellent and you were right the food was better then expected. Fresh fruit and veggies every meal and more then enough to choose from. Everything went as scheduled and as promised. Our guide Yigal was a walking talking encyclopedia. His knowledge and love for Israel was easily communicated to our group.I honestly can say that I do not think we could have had a better trip. Patsy and I would like to go back and spend more time. When we both returned we have found that the bible has come to life by knowing and feeling that we were there. I would highly recommend you to anyone looking to not only go to Israel but to get the most meaning from the holy land. Please feel free to use us as a reference for anyone considering travel to Israel. May the Lord bless you for all you are doing. Gratefully." - Ken and Patsy Dion, Scottsdale, AZ.

---
"Tim, everything went off as promised. We arrived in Tel Aviv at 3am and there was someone there waiting for us. We left at 2am and our transportation was there to take us to the airport. We were expected at our hotels. Our guide was excellent! Have'em call me!" - Jim McMahan, San Antonio, TX.

---
"Tim, thank you for an awesome experience of a life time. Where do we begin to thank you? How cool it was to have you call and see if everything was ok while we were in Tel Aviv. Thank you for your thoughtfulness and kindness. Then, there's Yigal our guide...we totally trusted him-if he said buy it we bought it. We are so grateful for everyone's patience with us, dad had to take it slow. Yigal never seemed to be frustrated with us, and that was so wonderful. We are thankful for his kindness. We learned so much-it was so enriching. We discussed other trips we have taken. We thought England was our all time favorite-but by a unanimous consent we all agree our former "All Time Best Trip" cannot compare with Israel and Yigal's wonderful ability to guide. It was touching to read the scriptures. It is amazing to be where Jesus lived. Israel, Yigal and Falaffal has all been embossed on our hearts forever. We are walking advertisements for going to Israel-there are several public school teachers who would love to go. Our brother would love to go at Christmas time. You are a good man Mr. Cowles - GOD BLESS YOU richly is our prayer for you and your family. Our family has been greatly blessed by you and your expertise." - Johnson 3 daughters and father, San Diego, CA.

---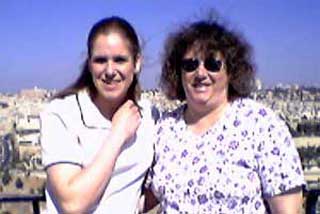 "Tim, thanks so much for your personal attention and organization of our trip to Israel for my mother and I! It was AWESOME and a memoriable experience! (You went above and beyond to phone us when we arrived in Tel Aviv and when we got home to make sure everything was good and that we were well prepared with what to expect and who to contact). Everything on our trip went perfectly smooth from when we boarded our airplane at JFK until we arrived back in New York. You delivered more than was expected. God watched over us and blessed our trip.
We were greeted in Tel Aviv just as you said by a representative of your company with our names in print on a sign. It was relaxing to be driven to our hotel and know that all the planning and itinerary was already taken care of. All of our hotels were comfortable and I loved the great breakfast and dinner buffets (I was never hungry). The group of people on our tour were great company. (13 was a good sized group, we heard everything our guide said easily and were able to get everywhere on time). All our drivers and guide were always on time and greeted us by name.
Our Israeli guide Yossi was excellent. He was so well rounded and knowledgable about so many things. I was impressed. We saw a lot and learned so much each day. It was nice to eat breakfast and then have our guide pick us up at 8am, tour all day, and then be dropped off to eat dinner at 6:30pm, then we were able to recollect and quietly think about the day, and get a good night sleep. We were able to see and do everything on the itinerary. Our guide was great in arranging for us to cross the Palestine border and he had a guide set up for us on the other side for us to see Bethlehem.
Everyone treated us kindly and we were thankful for the information you had emailed and sent us. We felt safe, relaxed and prepared. This trip has given us with a better understanding of where Jesus spent his life on earth and it made the bible so much more real and understandable. The memories and experience in Israel was great. God really blessed us. Tim, once again thanks for helping make this trip happen for us. Your personal attention was appreciated. I really enjoyed everything...seeing the Church of Nativity Birth Cave, The Garden Tomb, Floating in the Dead Sea and wearing mud, running down hte snake trail at Massada (the group in the cable car beat me), singing in Hebrew in our boat on the Sea of Galilee, walking thru water supply tunnels, seeing all the interesting ruins, Old Jerusalem, model of Jerusalem at Second Temple time, Armageddon valley, all the Biblical places where Jesus was or that are mentioned in the Bible, etc." - Michelle Mellegaard and LaVetta Moen, NY and ND.

---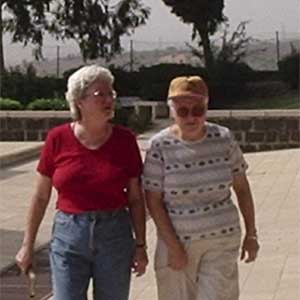 Mt. of Beatitudes, '04: "Dear Tim, I am a long time in answering your note as Christmas preparations got in the way of my thinking about your questions and taking time to answer. I want to say to you is that our trip to Israel was extremely inspiring. My comment, when people ask, is that I always had a sense of the diety of Christ, but visiting Israel made me understand his humanity in a way that I have not experienced previous to this trip. The country is small, so when we walked along the Sea of Galilee or looked at the ruins which are Capernaum we knew that we really were walking in the footsteps of Jesus. It was actually breath-taking and sometimes I was overwhelmed with the emotions that I felt. Yigal, our guide, was very learned in scripture and respected our beliefs allowing us time to think, meditate and pray when we were in places of reverence for us. He also was very knowledgeable about Israeli history and we learned a great deal from him as we listened to his conversation with us. We have said that we would go to Israel again in a minute if we had the opportunity. We had an intense feeling of intimacy with Christ as we toured there and we continue to feel a renewed sense of knowing Him. We were not worried at all about our safety the whole time we travelled in Israel even when we walked into Ben Yehuda Square in Jerusalem. Although both Palestinians and Israelis who we talked with had lots to say about the political situation there, we had no sense of being in danger. I want to thank you for helping us with this tour and ask you to pass on, once again, our thanks to Gordon Tours and Yigal for making our stay in Israel a comfortable, educational and spiritual experience." - Debbie Dyment, Canada.

---
"The LORD will keep you from all harm. He will watch over your life; the LORD will watch over your coming and going both now and forevermore." - Psalm 121:7-8 (the verse we received from God before going - Theresa and Margaret).
---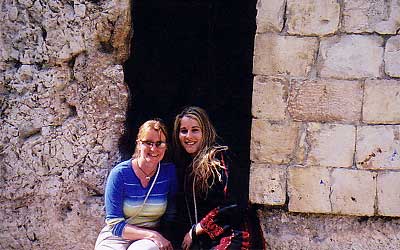 Empty Tomb: "Tim, thanks for your effort and patience. It was incredible and changed my life! The reality of the Bible hit me and the awesome honor of being where Jesus was, did his ministry and died for the sins of the world." - Theresa Bredenhof, Chilliwack, BC, Canada

"Tim, you were right! Israel is an experience, a place and a people that have truly impacted me in a powerful way. This trip will live in my heart and bear fruit in my life (as it already has). Thank you!" - Margaret Peterson, Abbotsford, BC, Canada

---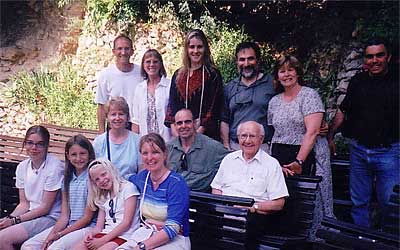 Garden Tomb: "Tim, we had a great time! The group was a great blessing - all dedicated Christians. We really enjoyed each other. The itinerary was very good. We definitely recommend you to friends! God bless." - Carol Albanses, El Dorado Hills, CA

"Tim, my family had a great experience and we recommend this Holy Land Tour - only wish we could have stayed longer." - Greg Brown, Hamilton, OH

---
"Tim, the 'Valley of Tears' was very moving. I had not seen that in my many previous tours. Excellent tour." - Rev. Charles Stewart, Ashland, KY
---
"Tim, we were blessed on this tour. The Dan Panorama Hotel in Jerusalem was great." - Bob and Glory Clay, Ironton, OH
---
"Tim...we had a wonderful Holy Land Tour and a wonderful guide - Ezra. The boat ride on the Sea of Galilee, being baptised in the Jordan, the Mount of Olives and our first view of the Holy City, the Garden of Gethsemene and the Garden Tomb seemed to be the most emotional. It was wonderful!! We were safe the entire time and our guide never took us anywhere we were in danger. Thanks for all your work." - Shalom shalom, Dan and Jan Ahrendsen, Ashford, WA
---
"One of my students and I have returned from a wonderful Source of Faith Holy Land Tour. We had an excellent, knowledgeable guide who showed me a few places I had never seen before in my previous 4 tours. We never - at any time - experienced any fear or danger - nothing!" - Wes Astin, Chaplain, Ferrum College, Ferrum, VA
---
"My parents and I just returned from the Holy Land. I have visited many places but this tour does not compare with any other tour I have taken. It was a very unique and special experience. My parents devoted 45 years in ministry, planting and serving many churches. They dreamed about going to Israel their entire lives. After they retired this dream came closer but was still difficult to accomplish. I prayed for a way for them to go.
When I planned this tour it was not easy for me. First, I heard about terrorism in Israel. This has caused many problems for tour companies. Most of them closed their doors. This made it very hard to get the information about tours and the true situation in Israel for my parents pilgrimage. Second, my mother has bad knees. I doubted she could make this tour with her wheelchair because I knew there are many stairs and hills in Israel.
I found Training Unlimited Tours on the internet and asked many questions. They answered them all with kindness and honor plus kept me updated on the situation in Israel. On faith we went to Israel and all statements Training Unlimited Tours gave me proved true. People in America believe that America is in the war and we are in danger to go there. I can tell you from our first hand experience that Israel is not the danger people imagine. It is very peaceful and quiet!
We shopped and walked the streets at night without a guide. Our guide did not lead us to any dangerous areas. I believe most of Israel is safer than America except some parts of Jerusalem which we avoided. We met many tourists - but not as many as there used to be. There were no long waiting lines. We accessed almost all the places we wanted to see with my mothers wheelchair. My mother missed just two places because of bad road conditions.
Everything is life is like a two bladed sword - it cuts both ways. When people think it is not a good time to go Israel it should be a good time for you to go. It blessed my parents beyond words and I have a whole new understanding of the Bible." - Blessings, Eun Kim, Southwestern Seminary, Ft. Worth, TX
---
I am still rejoicing over the trip to the Holy Land. My transfer from the airport to the hotel went a lot smoother than I supposed it to be, the folks at the Basel Hotel were very friendly and helpful. I got there a day early and enjoyed several swims in the Mediterranean Sea as the hotel was just across the street. Did some sight seeing in Tel Aviv. The food was very good in Tel Aviv. Wednesday morning our first day tour day together I did not know what to expect - there were 12 of us - I look back on it and believe God put us together as a group of pilgrims. We meet our guide and driver who were very helpful. Zael, our guide pointed out very many things: historically, politically - plus another Pastor and I added spiritual dimensions of the trip or particuliar sights - how my heart to jump with in me as I actually was visiting places my Lord walked along with Peter, David, Paul and others. Many things that were not scheduled on our tour we got to see. Our guide was the best guide in all of Israel. We read Scripture at various places - how the Word of God jumped off the pages - it was if the Lord Himself was there - many times I sobbed openly as I remembered what had took place at these stops.
Our trip to Tiberias was wonderous such beauty our hotel was beautiful. I believe one of the most beautiful places I have seen on God's green earth. The boat ride on the Sea of Galilee - how many times the scripture came alive - as the Holy Spirit bought them to my remebrance - the St. Peter's fish was something I do not believe I want to try again, the eyes of the fish looking at me! Our guide pointed out different shops that would be the most advantageous to us: we got to go to a bakery, fresh pasteries - yum, yum! Many things that were not on the itinerary we did - on our to Jerusalem we took an old road - the Jericho road - very breathtaking and exciting. Different Scriptures were brought out as we traveled through the desert, Nazareth, Bethlehem - seeing where Jesus was born - how this trip gave insight to the Scriptures. We stopped by ancient Jericho, saw the ruins, the aftermath of the Battle of Joshua at Jericho - marvelous! Onto Jerusalem - entering the city - the tape Jerusalem by John Starnes was played - I believe the hair on my neck stood up. I was moved with such awe as I looked over the city my Saviour looked over many a times, I felt as He did for a people that were lost with no sheperd - the churches we visited were beautiful. I had a rabbi pray over me and my family at the Wailing Wall - how wonderfu! I was baptized in the Jordan River - what an experience. I got to have a Communion Service in the Upper Room - oh yes the Mount of Beatitudes. So many things to tell: we walked in His steps. I saw where Peter denied our Lord - went to the Garden of Gesthemane saw where our Lord was crucified, died, was buried and rose again. I knew He was alive, but looking in His grave where He laid - He is not there - Hallelujah!
What a wonderful time - I want to go back - I recommend this to anyone - more than I had hoped for! Oh yes, got to see Dead Sea Scrolls, where they were discovered, Masada, the Dead Sea - put my feet for a while to relax. I believe I made a good investment with my money. I believe that the Lord would say I was a good steward! - Blessings, Pastor David Kitchen, Indianapolis, IN